Going into this season, Cody Bellinger was the top prospect in the Los Angeles Dodgers organization, but he was not expected to make much of an impact this year, and a September call up would have been the best-case scenario. However, on April 25th, with outfielder Joc Pederson on the disabled list and first baseman Adrian Gonzalez struggling, Bellinger was called up and since then he has taken the baseball world by storm. Since his call up, he has set the record for most home runs before the age of 22 and currently has 34 home runs and 79 runs batted in. All of this after missing a month of the season. To put that into perspective, if Bellinger had not missed most of the first month of the season, his numbers would compare with New York Yankees' phenom Aaron Judge who will be the focal point of my next article.
This success has not gone unnoticed by the sports card world. Bellinger does not have as many cards as Judge does, but the ones that he does have skyrocketed since the beginning of the season. He currently has cards in seven products, and autographs in all but two of them. This article will focus on each of these products, and rank them according to which product provides the best investment potential and desirability.
7. 2017 Bowman Platinum
This product is a Walmart exclusive that Bellinger has two autographs in, both of which are redemptions. One is the Tools of the Craft insert autograph out of 35 and the other one is the Platinum Cut auto out of 25 which is also an insert autograph. Neither of these autographs can be considered a true rookie autograph, and they currently hold a value in between the 150-$300 range.
Most of the completed auctions for this product are for boxes and the rookie card parallels. The boxes come in blaster, hangar and hobby variations with hobby boxes having two autographs each and the retail variations have autographs as well, but at fair lesser odds. Retail products are not for everyone, but are fun to pick up every once in awhile.

6. 2017 Donruss Baseball
This product is a lot like Bowman Platinum since it also only has one rookie autograph of Bellinger, but in this case the autograph is live which makes this product a little bit more desirable. His autographs can be found in the Promising Pros subset and has jersey and patch variations. Bellinger also has insert cards in this product which have parallels that include one of one variations.
The amount any sports card product is involved in group breaks goes a long way for me in determining how popular a product is. Donruss Baseball has been out on the market since early March and Bowman Platinum has been out since early July, and I have yet to see any group breaker on Breakers.tv open this product. As a matter of fact, none of the sports card stores in Toronto that I have been to has had Donruss Baseball either, so clearly the first two products on my list are not number one on the checklist of this years' baseball card enthusiasts.

5. 2016 Bowman Chrome Baseball
The first product on this list that does not include Bellinger autographs has a total of almost 500 Bellinger cards valued over $20 on eBay. The decrease in Bellinger cards from 2017 to 2016 which will be shown after this description, reflects a hobby trend to decrease the number of cards across the board of players and products. Even though the decrease is not large, I believe it to be a very strong indication that our hobby is headed in the right direction and only brighter and better things are to come
The rookie checklist for this product is somewhat lacking, and I learned first hand that opening boxes of Bowman Chrome can be very painful. In total, I opened seven boxes and can not even remember off the top of my head what my best card was. Vladimir Guererro Jr. was who I was chasing since all indications show that he will be a star when he reaches the big leagues in a couple of years. Unfortunately, I was unable to hit any of his autographs and all I can do it wait for him to appear in other products.

4. 2017 Bowman Chrome Baseball
This is the other product on this list without any Bellinger autographs, but the Bowman Chrome brand still stands alone as a hobby standard and will always be popular among collectors. Bellinger has almost 400 cards listed over $20 on eBay from this product, and this is quite amazing since none of these cards are his true rookie cards since those debuted in 2015. This not only shows that collectors are looking to cash in on their Bellinger cards in anyway possible, but that collectors are also willing to shell out fair sums of money for whatever Bellinger cards they can get their hands on.
Another aspect that makes Bellinger cards hot in this product is the overall checklist of the product. It is filled with autographed cards of top prospects such as Atlanta Braves' phenom Kevin Maitan and former Chicago Cubs' top prospect Eloy Jiminez. This product also includes autographs of young star such as Andrew Benintendi and Gleyber Torres of the New York Yankees. So, even though Bellinger might not be main attraction in this product, his inclusion does add desirability to it.
3. 2017 Donruss Diamond Kings Baseball
Diamond Kings is my favorite low-end baseball product that was released this year. For less than $100 a box you are guaranteed two hits per box and one autograph. I tried a box and only managed to pull a Chad Pinder dual jersey autograph and a Craig Biggio bat card, but the cards look nice and the checklist is loaded with veterans, all stars and loads of rookies.
Bellinger only has 47 listed cards on eBay, including game used cards and autographs. The highest selling autograph is his dual patch autograph card numbered to 25 which sells in the 150-$200 range. Why Diamond Kings is not more desirable in the group breaking community puzzles me because of the things I have mentioned, but it is most likely because Panini does not have an MLB license. Regardless, this is one of the of the nicer baseball products released this year in my opinion and it should continue to get some love in the future.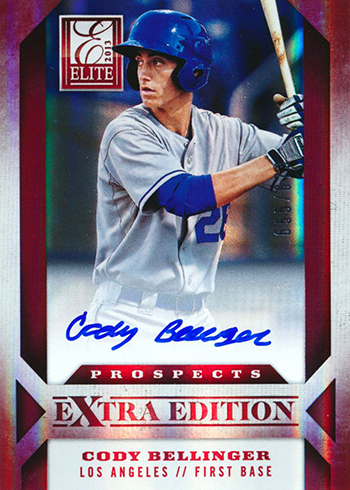 2. 2017 Donruss Extra Elite Edition
Like Diamond Kings, there are only 42 Bellinger items listed on eBay and most of them are his rookie autographs. There are parallel versions of his autographs, but most of them are valued in between 200-$250, so a little more than Diamond Kings. There are also rookie cards of the Dodgers' superstar with parallel versions of those as well. Most Bellinger autographs have took a hit since his hot start in the big leagues, but these cards have maintained a steady value and still consistently sell in the 150-$250 range.
Unlike Diamond Kings, this product offers on card autos which is always desirable to collectors. This is exclusively a prospect product and includes other young stars such as Kris Bryant, Gregory Polanco and Maikel Franco of the Philadelphia Phillies. When Panini had a MLB license this product was very popular at my local sports card store. A box includes six or more autographs and with a pretty deep checklist, chances to pull a decent autograph are decent.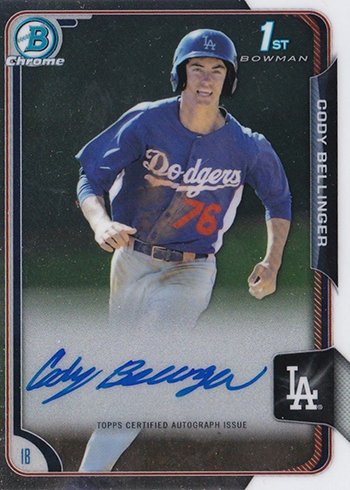 1. 2015 Bowman Chrome Baseball
As far as Bellinger rookie card autographs are concerned, this is the holy grail. Currently there are over 200 Bellinger 2015 Bowman Chrome autographs on eBay listed over $100 and his base autograph, which I was lucky enough to pull is valued anywhere between 4-$600. In comparison, Elite Extra Edition and Diamond Kings have 40 cards valued over $100, but this product has the same number of cards valued over $1000. Moreover, it is not even the low-numbered items that are demanding these large amounts of money. A green autograph Bellinger numbered to 99 sold for $1225 on July 13th and a refractor autograph numbered out of 499 sold for $1008 on July 10th.These values are solid and will continue to be high if Bellinger keeps performing. The one thing I enjoy most about the Bowman Chrome brand is that value always reflects performance and it is in very high demand in the collecting world since it is the standard as far as baseball rookie card autographs are concerned.
The highest completed auction that I found was for a Pristine 10/10 green autograph that sold for $6175 on July 3rd. This is mind blowing and from what I recall, I do not believe that even Kris Bryant autographs sold for this much when he first hit the scene. I did a search for Bellinger completed auctions that finished over $5000 and the only other two cards I saw were for two uncompleted auctions of his gold autographed card numbered out of 50. The bottom line with this product and Cody Bellinger cards in general, is that they are in extremely high demand and the sky is the limit to how high they can go.
With the high demand of Cody Bellinger cards over the past couple of years, there is bound to be more and more products with his name plastered all over them. He has yet to be released in hobby staples such as Topps Museum, Tribute and Finest as well as Panini Contenders Baseball, which is another prospect driven product. My Bellinger autograph is one of the most prized possessions in my personal collection and it has brought a new-found excitement to me watching baseball this year. With my Blue Jays struggling to get out of the cellar in the American League East standings, I have been following other teams such as the Dodgers with a keen interest, and I have been thoroughly impressed.
---
Here are the Top 10 "HOTTEST" Cody Bellinger Cards on eBay