Over the past two years, professional sports has been blessed with some generational talents that have taken the sports world by storm. Their talents have reflected the sports card hobby as well, and the biggest and greatest of these athletes might be NHL superstar Connor McDavid. Ever since McDavid was drafted first overall by the Edmonton Oilers in 2015, he has been the face of the NHL. Some of his accomplishments so far in his career include being the only the player to score 100 points this past season and leading his team to a second-round playoff appearance. The Oilers have their issues on the blue-line and in net, but with McDavid and other young talent such as Leon Draisaitl, who recently signed a eight-year, $.85 million contract to stay with the Oilers, the team is on the right path to a Stanley Cup contender.
McDavid is arguably one of the most talented players in the NHL today, and even though he has only played one full season, there are discussions that he might be the best player ever. My response to all this chatter is to simply enjoy the greatness that McDavid brings and leave the comparisons to the professionals because it is impossible to say who is the best-ever with how much the game of hockey has changed over the years.
The impact that McDavid has had on the hobby has been similar to the impact that Aaron Judge of the New York Yankees has had on the baseball card market. However, unlike Judge, McDavid has sustained his level of excellence on the ice, and as a result his cards have continued to climb. The Toronto Maple Leafs' rookies have also made a huge impact to the hobby as well, and only time will tell if these kids can continue to contribute positive things to the city of Toronto and the sports card world.
This article will focus on what I consider to be the five McDavid cards that should be part of any sports card collectors collection. These cards range from rookie autograph patches, to rookie cards and of course autograph rookie cards as well.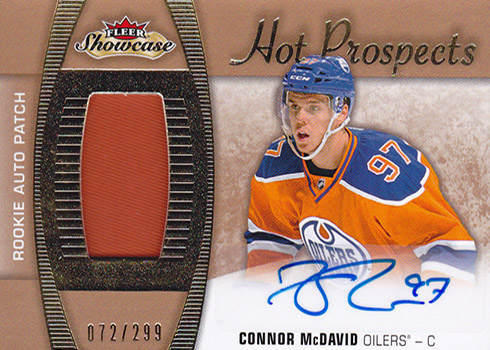 5. 2015-2016 Fleer Showcase Rookie Patch Autograph
I remember this product being one of the first mid-end products to be released in 2016 and the McDavid cards as expected were hot in the market. They started off selling on eBay for over $500, but now they can be had for around $400. This is surprisingly low since McDavid's NHL career has taken off as it has, but the Upper Deck Fleer Showcase brand, even though it is filled with nice rookie autograph patch cards, will always be a product that does not appeal to every hockey card collector.
This is partially due to the sticker autographs in this product and the Precious Metal Gems which is another focal point of this product.  These look very nice and shiny, but the chances of pulling a low numbered one that has sustainable value is extremely rare. These cards are also just insert cards, and this makes them less desirable as well. Regardless, Showcase is a very nice mid-end product with nice patch swatches and cool insert sets, and I always try a couple of boxes every year.

4. 2015-2016 Upper Deck Series One Young Gun
When 2015-2016 Upper Deck Hockey was first released, Mcdavid's Young Gun was a $150-$200 card and at times sold for much lower than that at sports card shows and on eBay. This was due to his injury and only playing half a season, but with his amazing season this past year, this card is now consistently a $300 card. Over the past year, the number of graded McDavid Young Guns on eBay has also steadily increased and the ones that graded BGS 9.5 almost doubled in value and there was a Pristine Black that sold for an astounding $14000 on July 20th. In terms of collectability, the Young Gun subset has always been at the top of all hockey card collector lists, and any true hockey collector will possess the Young Gun rookie card of their favorite players.
Even though the Young Gun lacks the flash of the higher end cards that McDavid has out there on the market, this subset has stood the test of time and I remember that one of my first big pulls was a Pavel Bure Young Gun from 1990-1991 Upper Deck Hockey. This was pulled during a simpler time of my collecting life, and to see this set still is as popular as it is, tells me that there are still true collectors out there that enjoy building sets and keeping cards for their personal collections.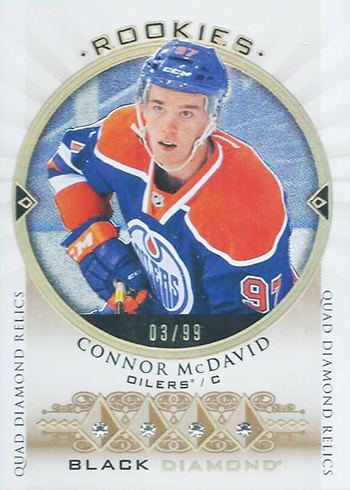 3. 2015-2016 Upper Deck Black Diamond Quad/99
In terms of value this card should be higher on this list, but it is not because I am not a fan of this product. Mid-end products such as Black Diamond are filled with too many meaningless subsets and parallels and cards of obscure players which make most breaks extremely tough. A box of Black Diamond now costs up to $400 and this is a bit ridiculous for one guaranteed autograph and four guaranteed hits.
The changes that Upper Deck made to this product are nice, moving it from a low-end product to a high-end one and the diamond relic cards are some of the nicest in the hobby. However, these cards are not guaranteed per case and this makes Black Diamond an extremely hit or miss product. There are also manufactured patches in this product which no collector is a fan of and the Team Logo Jumbo subset just looks cheap and I could personally do without that.
Regardless, even though I was unable to find any completed auctions of this card on eBay, with taking current market trends into consideration, it is most likely a $2000 card. So, this card is on this list more for its value than my appreciation for this product.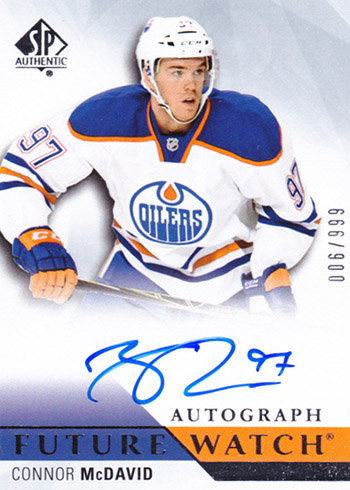 2. Upper Deck SP Authentic Future Watch Autograph
As I have explained in past articles, the SP Authentic brand is a staple in the hockey card, hobby and this card reflects that. It started out as a $600 card when it released over a year ago, and now it is worth approximately $1000, which is on par with his cards in other higher-end products such as Ultimate and Black Diamond. If a sports card collector was lucky enough to pick up this card when SP Authentic first came out and hold onto it, they were one happy camper.
Rarely do hockey cards make these kind of price jumps, and the only other player to receive similar increases in recent memory is three-time Stanley Cup champion Sidney Crosby, His Young Gun started off as a $200 card, but has skyrocketed to a $600 card, making even more of a price increase than McDavid. The reasoning to why hockey cards do not make significant increases have many theories, but one of mine is that there really isn't one hockey product that focuses on rookies, which is the cornerstone of any sport in the hobby.
Baseball has Bowman which is perhaps the most collected brand in the hobby, and the rookie card autos as I have explained in past articles illustrate this. Hockey only has Upper Deck Series One and Two that are rookie based, whereas other brands also have a solid veteran and superstar presence. Hockey collectors also from my experience tend to be the most hesitant spenders in the hobby, and will not go all out for a player unless they are a sure thing. There have been similar players in hockey as in baseball that have made immediate impacts in the sport and the hobby, but their cards did not make a big an impact as Aaron Judge and Cody Bellinger cards did and quickly down the road their card values went back to a more reasonable level. Nathan Mackinnon cards come to mind, which on the mid-end level started as more than a $100 card , but now can be had for closer to $50. His high-end cards have taken a similar dive and his Cup rookie patch auto which was close to a $1000 card when it first was released, is now not even worth $400. This has a lot to do with the failure of the Colorado Avalanche as one of the worst teams in the NHL and Mackinnon's corresponding poor play, but regardless it is extremely rare for rookie hockey card values to sustain their early momentum.
Another reason why hockey card values tend not to trend upwards for long periods of time is because it is difficult to fine collectors that are willing to sell their cards for reasonable prices. This is both a good and bad thing. On one end, these collectors want to keep their cards for their personal collections, but on the other hand, they are also looking to make a quick buck. I used to frequent sports card shows in Toronto on a regular basis, and one of the main reasons why I stopped was because of the incredibly high prices of the hockey cards that were there. This was true for singles and for wax.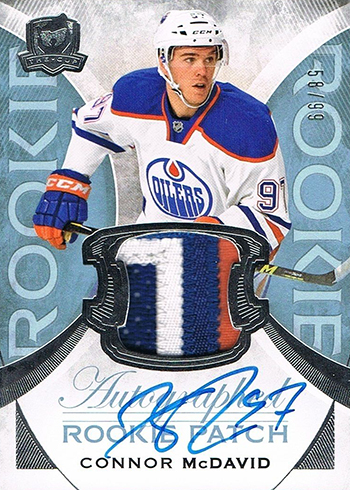 1. Upper Deck The Cup Rookie Patch Autograph
The holy grail of any hockey card collector is if they own a The Cup Rookie Patch autograph of their favorite player. McDavid's Cup Rookie Patch Autograph is now more than a $13000 card, and there is no other player that can come close to this value, except Sidney Crosby. I was unable to find a Crosby Cup Rookie Patch Autograph with a decent patch swatch on eBay, but taking his other card values into consideration, it is probably safe to say that it would be more than a $15000 card.
I have been lucky enough to own a few of Cup Rooke Patch Autographs in my collecting life and the trend of them starting off hot and then cooling down to more manageable values holds true for them as well. Proven NHL stars such as Ryan Getzlaf, Corey Perry and Dion Phaneuf all used to be in high demand, but now all can be had for a fraction of what they initially sold for. The bottom line with this product is that if a collector is lucky enough to hit an NHL star rookie patch autograph it is best to sell early if that is your motive, rather than hold onto a card and hope for future investment potential. This is the logic of most rip and flippers, so this is nothing new to the hobby.
McDavid is number two in the hobby world in terms of impact and investment potential, only trailing the face of the NHL, Sidney Crosby. If McDavid continues to succeed as a player and leads his team to playoff success, then perhaps he will reach Crosby's level as a hobby icon. Then and only then will all this talk about McDavid being the best NHL player ever become justified.
I have enjoyed McDavid from a distance and the success of the Oilers has been a welcome return to the sport. However, not owning any major McDavid cards my interest in him has been minimal, and I have not focused any of my time or money on any of his rookie card products. He obviously continues to have cards in other products, but if I were lucky enough to pull a nice one, it would most definitely be offered as trade or sale bait. Nevertheless, the NHL has a lot of young superstars in the league right now and this class is led by Connor McDavid and should only mean bigger and brighter things for the sport and the hobby.